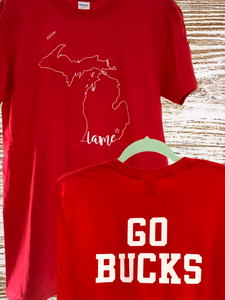 Let your imagination run wild!
This special request was for a "You know the state outlines that say home? Can we Put that on a shirt? …let's make it a Michigan outline and instead of home - say LAME! Go Bucks on the back! Red shirt, White image?"
Options for customizing: Leave requests in ORDER NOTES. Text 828.283.0013 or email karoscreativecorner@gmail.com with questions or any  special request!! Let's work together to make this the perfect gift for you or your college sports rivalry!! I will be messaging frequently during the process, so please be diligent with message checking! 
Options for shirts: Next Level racer back or flowy festival tank tops will be used. Gildan Soft style shirt will be used for short and long sleeves. Gildan sweatshirt will be used. Gildan hoodie will be used. 


Less than 2 week turn around time.